Die Sprache der Spekulation

Philine Schneider mit Guerilla Architects, Shahrzad Rahmani

HD Video / Farbe, Audio / 18:30 min, Loop

Performance: Alicia Agustín
Produktion: OFFscreen Modern Media
Kamera & Schnitt: Finnja Willner
Kamera: Andrés Castoldi

ausgestellt in:
Neuer Berliner Kunstverein n.b.k.
1989-2019: Politik des Raums im Neuen Berlin
im Rahmen der Berlin Artweek


Vor dem Hintergrund eines sich verändernden Berlin und eines aggressiven Immobilienmarktes untersucht die Arbeit einen markanten Ort der Stadt: Das 1 km2 große Gebiet rund um die Ruine der ehemaligen Brommybrücke in der Spree, zwischen den Spekulationsarchitekturen entlang der East Side Gallery und dem von Verdrängung betroffenen Gebiet des nördlichen Kreuzberg.
Die Videoarbeit greift die Sprache der Verkaufsbroschüren und Immobilienanzeigen auf, die sich vorwiegend an Investor*innen und zukünftige Käufer*innen richten. Diese Sprache mit ihren Begrifflichkeiten ist Ausdruck einer zunehmenden Kommodifizierung des Wohnens. Ein Großteil der Marketingsprache bezieht sich auf das komfortable Wohnen einschließlich Dienstleistungen und erweiterten Services, die vor allem aus dem Hotelwesen und Kurzzeitwohnen stammen. So verfügen die neuen Wohnbauten heute über Lobbys, Bars und Lounge-Areas, offerieren Dienstleistungen wie Reinigung oder Concierge-Services und sind darauf ausgelegt, ephemere Nutzungsdauern zu etablieren.
Der einer kapitalistischen Verwertungslogik folgende Immobilienmarkt geht über den reinen Bau und Verkauf von Immobilienprodukten heute also weit hinaus. Themen wie "passageres", sprich nomadisches oder temporäres Wohnen, die ihren Ursprung in Diskursen um alternative Wohnformen haben, sind dabei längst als Verkaufsargumente absorbiert worden.

Against the backdrop of Berlin's ongoing transformation and its aggressive real estate market, this work examines a striking location in the city: the 1 km2 area around the ruins of the former Brommy Bridge over the Spree River, located between speculative architecture along the East Side Gallery and an area in the northern district of Kreuzberg that is being affected by gentrification and displacement.
This film takes up the language of sales brochures and real estate advertisements, which are primarily aimed at investors and future buyers. Its terminology and tone express the growing commodification of living. Much of the marketing language refers to the notion of comfortable living with a wide range of services mainly derived from the hotel industry and short-term housing concepts. The new residential buildings today have lobbies, bars, and lounge areas, offer services such as housekeeping or a concierge, and are designed to establish ephemeral use.
The real estate market, which follows a capitalistic logic of exploitation, therefore goes far beyond the mere construction and sale of real estate products today. Topics such as "urban nomads," derived from discourses on alternative forms of living, have long since been appropriated as sales arguments.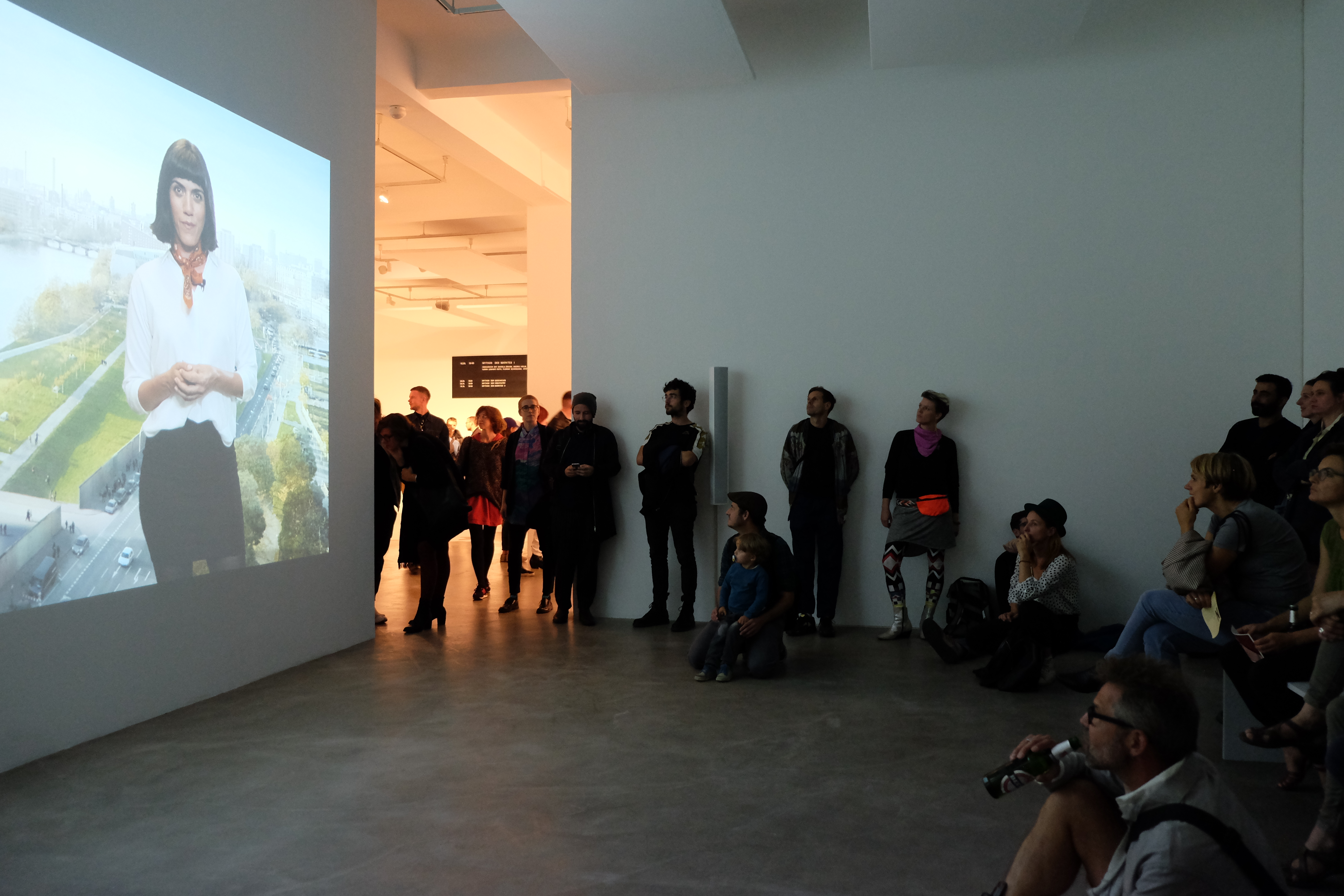 Entstanden im Rahmen der Recherchearbeit 1km2 Berlin – Strategien der Spekulation von Guerilla Architects, Shahrzad Rahmani und Philine Schneider im Kontext der Recherchestipendien im Bereich Bildende Kunst im Jahr 2018 der Senatsverwaltung für Kultur und Europa.

Developed as part of the research project 1km2 Berlin – Strategien der Spekulation (1km2 Berlin— Strategies of Speculation) by Guerilla Architects, Shahrzad Rahmani and Philine Schneider. Funded by the 2018 research stipends for visual arts of the Senate Department for Culture and Europe.